Powell River Concrete Suppliers & Contractors
This is a Sunshine Coast Directory of Powell River Concrete Contractors & Suppliers.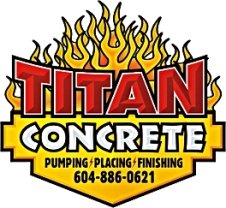 Titan Concrete
Pumping Placing Finishing
Titan Concrete is able to handle all of your concrete needs. A boom truck and line pump are available for pumping jobs big and small.
Placing and finishing can be accomodated by a crew with over 25 years industry experience. Colored concrete, stamped concrete and exposed aggregate applications are just a few of the services provided by Titan Concrete.
Call 604-886-0621 to discuss your concrete needs today!
---
Titan Concrete Pumping & Finishing Sechelt Tel: 604-885-1288
Adams Concrete Redi Mix 7095 Duncan Tel: 604-485-6888
Coast Curbing Powell River Tel: 604-487-1957
D Derton Construction Powell River Tel: 604-485-2348
Powell River Ready Mix 2815 McCausland Tel: 604-487-1994
If you are looking for a concrete contractor or supplier in another Sunshine Coast community, be sure to check the other Service Directories from the Sunshine Coast homepage.
Return from Powell River Concrete to Powell River Business Directory